TERRA+ participates in EIT Digital Venture Program 2022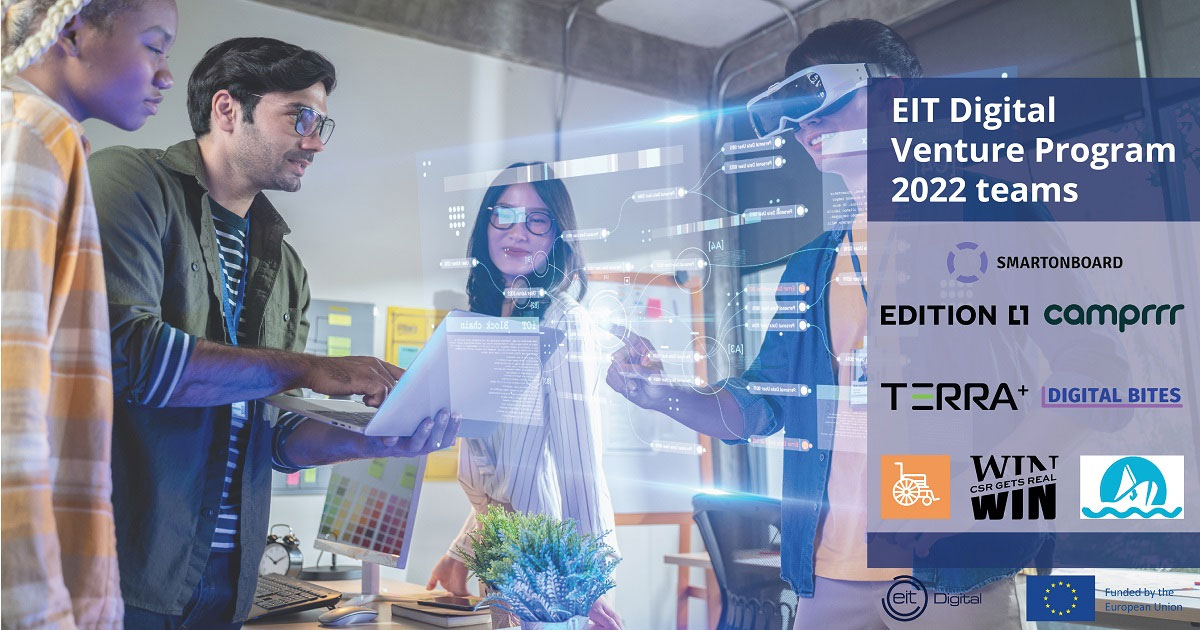 TERRA+ is proud to participate to Europe's best early-stage deeptech accelerator, the EIT Digital Venture Program. Read below the article that was originally published by Found.Ation, the facilitator of the EIT Venture Program 2022.
Running for the fifth year in a row, Found.ation is proud to facilitate the EIT Digital Venture Program, a unique accelerator with the purpose to actively support early stage startups in 19 European countries. So far we have supported 33 startups, providing 465.000 euros in funding. During the 4 years of the program, 93 startups have been created with the support of EIT Digital at a European level, in which more than 200 young entrepreneurs are involved. 2022 marks the program's fifth edition, with 8 fresh startups that have been selected to participate in the East Balkans edition of the program.
Please welcome our freshest cohort:
Orbito aims to be the only online one-stop travel marketplace for mobility-challenged users, who will be able to plan and book their trip online with one credit card transaction.
SmartOnboards is a software solution tailored for e-commerce companies that primarily provide customer support through email, social media as well as online chat.
 NEREID envisions the future of yachting experience. The teams builds an integrated cross platform management systems for marinas and full service assistance for boat owners.
 Digital Bites makes the Virtual Taste Simulator, a device that creates immersive food consumption experiences in virtual worlds on demand for its users.
 TERRA+ envisages building trust for agri-food products by increasing their traceability and the transparency of the relevant supply chain.
 WinWin helps businesses reinforce their social profile by running CSR activities which upgrade their corporate communication and address actual social causes.
 Camprrr makes a Saas platform that optimizes business management and showcases facilities & services, tailored to the needs of the outdoor hospitality industry.
 Edition 01 wants to reshape Art with AI, one piece at a time. Edition 01 is a startup that uses AI to generate modern artworks. Their process involves ingesting images of contemporary art into a proprietary machine-learning algorithm that is trained to generate its own, unique images.
The accelerator kicked-off in May with a 2-day bootcamp, during which the startups got to know their mentors and start learning the basics of entrepreneurship: from business plan and service design to legal issues and how to reach investors. Even though for yet another year, sadly, we didn't have the chance to meet in person with our teams, our experience in online-only events helped us keep the participants engaged on webinars and interactive workshops. Our teams this year come from various locations from Greece.
A big thank you to Mirko Tadic, EIT Digital RIS Venture Program & DeepHack Lead, and of course to our wonderful instructors, especially Dr. Antonis Livieratos, Thanos Leontaris (Ratio Law), Ioannis Rovis (Vellum S.A.) and Natalia Deligiorgi (1:1 Performance Coaching), Constantinos Nikolaidis (Velocity.Partners) and our very own Costas Bissas, for offering their expertise and wisdom, and keeping the teams engaged throughout those two days.
Stay tuned for the virtual Demo Day, on July. The teams will present their progress in front of investors, industry stakeholders and journalists – an equally challenging task.